The family reunion is over for another year!
We traveled without event and vacationed very much with event. Which is good. I know that none of you thought about anything other than me for the last week, so I am happy to announce that you can rest easy that my vacation was a success.
Just a leetle housekeeping today. (It always used to confuse me when people would say "just a few housekeeping things" because I was like, "Wait. Are we cleaning stuff today?")
Meredith's annoying housekeeping items supplemented with Sherlock GIFs because they help the medicine go down:
1. For those of you who noticed that I changed the appearance of my blog yet again:
2. For those of you who like the changes:
3. For those of you who don't: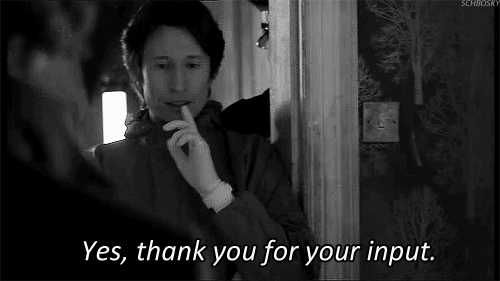 4. I'm finding it a little difficult to blog because my Pandora is going constantly and whenever I have a stroke of blogging genius, HERE COMES MY JAAAAAMMMMMM and I'm like
And then I forget whatever it was and I'm like
And naturally that makes blogging a little difficult.
That's all the housekeeping stuff.

Finally, I just want to communicate that I'm very proud of myself for not going like eight months without blogging. Keep in mind that this will be me every time I see this post, this post that I posted less than twenty-four hours after getting home from an exhausting vacation that normally would have hindered me from posting posty posts like this post.
And I'm really going to try to think deep, bloggy thoughts so I'll have stuff to talk to you about over the summer months without having to use Sherlock again.
And with that, I leave you with these summer wishes: May your tan never fade, may your ice cubes never melt, and may your shorts never ride up in the middle.